Posted under by raizel on January 18th, 2010 9:57 pm

Learn the art of Belly dancing!
Belly dancing is a great form of fitness, dance and self-expression.

Join Raizel and her group of ladies for a fun and exciting dance journey and self-discovery! Learn graceful and feminine movements that has transcended  from Middle Eastern and Oriental dance culture.

Benefit of Belly Dancing:
Revitalise mind & body with breathing exercises.
Learn feminie movements & gain flexibility
Better posture while enjoy dancing with others!

Get body awareness, enhance vitality, balance and beauty…
Belly dancing is for women!  No experience in any dance form is required.
Age, fitness level and the size of your belly are not barriers!
It is a great form which mothers, daughters and friends can get together, explore your own movement.
Make a date with us, bring a friend and enjoy getting into dance wellness together!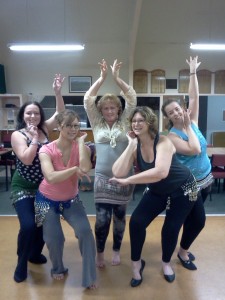 Our belly dance classes runs in 8 weeks term. Learn a complete dance at the end of 8 weeks. Casual classes welcome too.



Fees:
1 class per week: $100
(New Beginners add $10 for first time registration)
2 classes per week : $160


Causal : $15 per class



To register: email or call Raizel at 06-759 1739 or 027 739-1380
Beginners 

When: Wednesday (for new beginners) at 5.30pm to 6.40pm , Mondays (beyond beginners): 5.30pm to 6.40pm

Where: Fitzroy Golf Course, Club hall. (end of Record Street, New Plymouth)

What you will learn:
Basic moves to isolate different muscle groups. Awareness of posture, breathe and flexibility.
Walking and turning transitions.

Layering moves with stronger sense of body and spatial awareness. Rolls, pops and locks. Be able to dance and move with confidence and grace.

* Class is limited to 16 per session . So please register to get in!
Intermediate & Performance Class

Where: Fitzroy Golf Course, Club hall. (end of Record Street, New Plymouth)

What you will learn:
Dance performance with group and solo creative movement. Be able to identify Arabic rhythms and put sequence of movements to move with the beats. Experience partnering with others, working with live musicians and the art of improvisation.
We introduce dancing with props, veils, fan veils, Isis wings, tribal skirt,
"Belly dancer- Dance & music starter pack: $98 includes
Dance wear with Choli top and stretchable pants ($60)
Chiffon coin hip scarf ($28)
Belly dance for Fitness  Music CD (17 Tracks-$10)
Term dates for 2014:
31st March to  21st May
26th May to 16th July
21st July to 10th Sept
15th Sept to __Nov
 __Nov to 17th Dec
N.B: No refunds when term payment is made and commenced.