Posted under by raizel on January 18th, 2010 9:57 pm
To develop body awareness, enhance vitality, balance and beauty…Belly dance!
Belly dancing is an amazing way to get fit and flexible!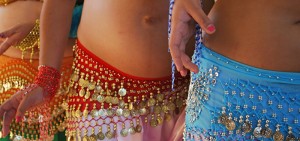 Learn the traditional and contemporary belly dance movements that has transcend through time and make it your own form and self expression. There are no age, size barriers. Belly dancing is not about the size of your belly! It is a great form which mothers, daughters and friends can get together, explore your own movement and  for a dance to each other.
Make a date with us, bring a friend and enjoy getting into dance wellness together!
Our belly dance classes runs in 8 weeks term. Learn a complete dance at the end of 8 weeks.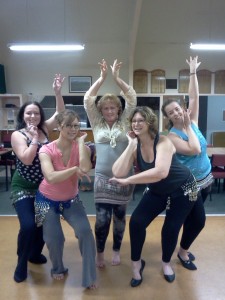 Each session includes:
Power stretch & breathing exercises
Isolation moves & technique to flex and strengthen various muscle groups with  music
Complete with full dance choreography, cool down relaxing stretch
Attire: Comfortable top and pants to stretch. Hip scarf to accentuate hip movement.
Fees: $88/term of 8 sessions
($10 registration prior start. Deducted from term fee when paid  in full.)
To register: email or call Raizel at 06-759 1739 or 027 739-1380
New Beginners

When: Mondays, 5.30pm to 6.40pm

Where: Fitzroy Golf Course, Club hall. (end of Record Street, New Plymouth)

What you will learn: Basic moves to isolate different muscle groups. Awareness of posture, breathe and flexibility.
Walking and turning transitions.

When: TWednesdays, 5.30pm to 6.40pm

Where: Fitzroy Golf Course, Club hall. (end of Record Street, New Plymouth)

What you will learn:Layering moves with stronger sense of body and spatial awareness. Rolls, pops and locks. Be able to dance and move with confidence and grace.

* Minimum of 8 registered to start (For all sessions)
Intermediate

Where: Fitzroy Golf Course, Club hall. (end of Record Street, New Plymouth)

What you will learn: Dance performance with group and solo creative movement. Be able to identify Arabic rhythms and put sequence of movements to move with the beats. Experience partnering with others and working with live musicians and the art of improvisation.
Private Sessions: Belly dance Instruction  (For individuals)
As a professional and accomplished dancer in many different styles and techniques,
I offer private dance instruction for both experience performers, dancers and total beginners. Drawing from my own experience,  one-on-one sessions are great learning for which one receives full attention, positive support to work on movement  and repertoire.
Raziel formulates a dance exercise sequence and watch for specific techniques which the individual to grow upon and add as a tool in their dance, performance and confidence.
Location for private sessions:
Either Fitzroy Golf Course Club or at your own venue.
Rates:
Individual (1 to 2 person) $60 for 1 hr
Small group (up to 4)  at $90  for 1 hr
Small group (up to 10)  at $120  for 1.5 hrs
Specials: Book for 5 private sessions and the 6th one is Free!
To book contact Raziel at  027 7391380 or email.
"Belly dancer- Dance & music starter pack: $90 includes
Dance wear with Choli top and stretchable pants
Chiffon coin hip scarf
Belly dance for Fitness  Music CD (12 Tracks)
 Conducted by Rosalina Pang (Raizel): Dancer, Instructor & Entertainer.
Originally from Singapore, now residing in Taranaki since 2008, Rosalina used to hire belly dancers as entertainers for events and entertainment. "I was intrigued by the subtleness of the dancers; grace, strength and coordination. Since I was a kid, I loved dancing and entertaining through Oriental and contemporary dance. I decided to take up belly dancing as a form of fitness, creative expression and I love to share it with others!" Since 2004 she has been performing, choreographing for group and conducting Bellydance for Fitness sessions. In 2010, She volunteered with the New Plymouth Operatic Society when Miss Saigon was staged at TSB Showplace and took the role as Mimi and the pole dancer.
"It has been one of my most exciting and rewarding pursuits. Plus, most dancers look and feel younger then they are!"
To feel young and nimble, Belly dance!
Contact Raziel at  027 7391380 or email.