Here we list the upcoming and archive of past performances that are listing for public. Come and support us, your friends or have a fun activity to have a go at bellydancing yourself.
Paepae at the Park, Patea
6th February 2012, 3.30pm (Event starts from 9am to 5pm)Click here.
Paepae in the Park is a community event to commemorate the signing of the Treaty of Waitangi by increasing understanding through a music festival. The aim is to assist in building a strong and balanced community. This is a one day festival held on Waitangi Day in Patea behind Aotea Memorial waka. Music is hugely important to the Patea community and the event is hosted by the Patea Maori Club with national artists bought in to provide free entertainment for the 3000-4000 people who attend.
This year's event features Cornerstone Roots, MaRoPu and other bands. Also bellydancers, drummers, food, art & craft stalls.
Girl's Expo

: Let's Hear it for the Girls!

TSB Stadium (by the race course) New Plymouth, Taranaki
Let's hear it for the girls celebrates all that is fashionable, inspiring and creative for today's women.
The show blends beauty, design and style, everything you, as a woman of today will simply adore and deserve.  Be it fashion and beauty, health and fitness, body, soul or mind Let's hear it for the girls brings an experience that is unique, stylish and chic. See webpage here
.
5th Element Dancers are invited to add to the fun and showcase how bellydancing is an art, fitness and dance to each other! Come support us and experience bellydancing at the Girls expo. Its all about celebrating and sharing the joy of being a Girl!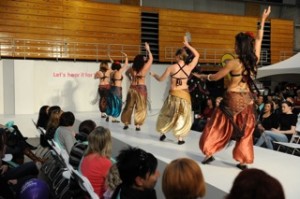 5th & 6th November 2011 at Main Stage and Fitness Studio Area
TSB Festival of the Lights: Bellydance Evening
Pukekura Park(Hatchery Lawn) New Plymouth, Taranaki
2012: 8.30pm to 9.45pm (Monday)
Bring a mat, wine some snacks and come early for the evening is filled with dance and music.
Before we come on stage, there is the NP Rock & Roll and Capoeira group. So, mark the dates on your calendar! We'll catch you there