Bellyzoom|Sundays|8-9pm ~ 4-week to learn a dance
Join 5th Element BellyZoom Group where distance is no barrier!
Sign up for a series of four classes to learn choreography and techniques infused with world culture, music, and movement.
These lessons are held on a Sunday evening NZ time as a way to wind down the week, connect to creative selves, and dance with new combos and techniques surfed out over zoom. These sessions are recorded for access for the week prior and you can download and save them.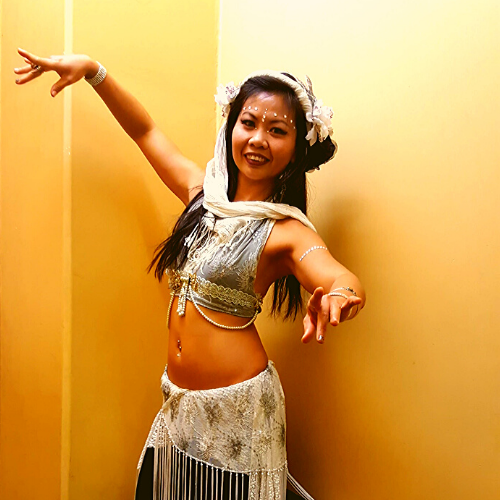 Conducted by Rosalina.. a.k.a Raizel.
The music playlist is shared for your listening pleasure.
Music Playlist on Spotify
Please register here to enter our Belly Zoom Room 💃🏻
Belly Zoom!
Four-week terms: $60 | $40 student rate
Casual fee: $18
Internet Banking transfer is accepted:
5th Element Dance account:
TSB Bank: 15-3953-0697525-10
Ref: Your name|BellyzoomSundays
How to connect to our Virtual Class on Zoom
1. Device:
Please load Zoom to set up a free user account. Download the application on to your device, mobile, tablet or laptop:
Test your audio and microphone settings before the class starts.
Use either a laptop (bigger screen are more comfortable for viewing) OR a smart tv with webcam, or your mobile.
Visit https://zoom.u OR search on your app store on mobile for "Zoom".
Some tips to make your video class enjoyable.
As this is a live interactive video class, would like to see you be able to guide you through the session to help guide you.
You can turn off the video if you need to rest in between and just go on watch mode.
2. Audio testing, options and privacy:
Please test your audio setting from the device you are going to Zoom into. I would suggest for a movement class, you would benefit most to be handsfree and to use device with a larger screen then a mobile phone. i.e A laptop or a tablet. If you have access to a large screen and TV with hdmi cable, you could also plugin into that or share the screen remotely if you have those capabilities from the device.
Zoom has an instruction page on how to test your audio settings here.

Privacy options:
You could use a Bluetooth headset if you have one. Sometimes good ones have noise-cancelling features.
3. Free-standing and hands-free:
Please set up your device to show your head and torso as much of your body as you can so we can see each other and flow with yoga movements freely.
4. Create a space:
Create a free space of at least 2m x 2m around you.
If you have kids of partners in the room, please excuse yourself for the time and if you have to attend to them and turn off your video for that moment and mute your audio during that time and unmute when they have settled and you are free to return to the session.
Click on Pay' Button and input the amount for a secure credit or debit card from Stripe payment gateway.