Let 5th Element belly dancers bring movement and life to celebrate your special occasion and event!
5th Element Belly dance group is based New Plymouth are joyful dancers and we love to entertain!
Captivate and engage your guests to have a great time with fun, lots of laughs to make your event memorable! Get your guests drumming and dancing to a different beat!
Be it on stage or off-stage performances, we interact and bring the joy of dance to you and your guests! Please contact us for more information and quote. email us here.
Rosalina/ Raizel- Dancer, Choreographer & Entertainer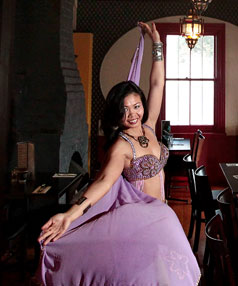 Vibrant and energetic, Raizel is a passionate, emotive dancer, entertainer and instructor with lyrical music interpretation. Her background in dance started at age of 8 with various forms: Oriental, Hip hop, Funk, Turkish, Arabic, Oriental and fusion Belly dance.
Originally from Singapore, now residing in Taranaki, New Zealand since 2008, From her first performance on stage at 6 she has never stopped entertaining as semi-professional (part time) dance entertainer through Oriental, Contemporary and Modern dance. Throughout high school she danced with R& B and contemporary dance group called ' Foreign Bodies' who won inter-varsity dance competition 1999. Pursing her career in Events and Marketing, Rosalina hired
belly dancers as entertainers for entertainment and was intrigued by the subtle of the dancers; grace, strength and coordination.
This reignited her passion for art of dance and trained under Samara of Pyramid Dancers in Arab Street (Singapore) in 2003. Basics of Egyptian, Folkloric and Oriental. Within the first 6 months, she was performing and entertaining audiences in festivals, company launches and events, and never looked back. Continuous learning and sharing with other professional dancers and attending workshops through the years, belly dancing has heighten her awareness for body and creative expression.
"It a great form of fitness, and I love to share it with others!
Its been one of my most exciting and rewarding pursuits. Plus, most dancers look and feel young!"
Raizel describes her dance style as Raqs: fusion to stylize; lyrical to each rhythm and cultural significant.
"I would groove and belly dance to any genre of music with soulful rhythms."
With events and entertainment background she is also available as Master of Ceremony and entertainer for your event.
Contact Raziel at 027 7391380 or email.
Paisj – Tribal fusion (Hipnotix Dance)
Paisj's passion for dance could be said to be 'in her blood', her great grandmother, Lucie Mendl formed the very successful Mendl Creative Dance that still operates to this day.
She has pliéd her way through ballet; bopped to Jazz; expressed herself with Creative; won auditions to the beats of Prince and Michael Jackson. Embraced the groove that was Break dancing; taught Aerobics that was more dance than sweat; popped her joints to Cardio Funk and Hip Hop. Waltzed, Quickstepped, Tangoed, Ceroced and Cha Chaed but finally her ancestral gypsy heritage has drawn her back. The passion, spirit, freedom and sheer exuberance that is Tribal Belly Dance has called her home. She has found her passion and for this amazing and ancient dance. Paisj is a captivating performer. She is snaking her way through Tribal Fusion, showing her darker side with Gothic styled belly dance or introducing you to her fun side and a world where Cabaret meets Tribal! You won't be able to take your eyes off her!