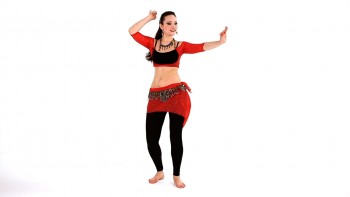 5th Element Dance follows a safe health and awareness structure.
We start every session with warm up exercise that stretches and tones the body. Concentrating on different areas of the body, to improves muscle elasticity, control and balance. Working in a comfortable, fun and supportive environment, you are encouraged to improve your body awareness, flexibility and range of motion.
Beginners (Level 1-2): This class provides the fundamentals of belly dance. As a beginner student you will learn and follow fun and easy combinations while being introduced to the exotic rhythms of the Middle Eastern world. In our classes, we also introduce belly funk and fusion, a multi-cultural blend of belly dance techniques to modern music to deliver funky movements and dance combinations!
Beyond Beginners (Level 3-4): This class is the progression from Beginners. Elementary will provide you the basis for logical dance connectivity. With a wider range of dance repertoire and use of props such as veil, tribal skirts and more, you will be ready to start shimming, layering more movements and combination to be confident on improvisation and freedom of expression in your dance movement.
Intermediate & Performance group: By invitation, this class focuses on dance fluency, mastering isolation and articulation and gestures in your movement, both as an individual, and interaction with your fellow group dancers. Here you will start speaking the belly dance language and be ready for showcase. Styles format include Raqs, Oriental and Tribal fusion.
Advanced Choreography with styling workshops:  Workshops are offered by Raizel and visiting Dance Instructors for dancers who want to progress.  Advanced Choreography will help dancers open their repertoire and be exposed to world class choreography and performance techniques.  Usually 2 to 3 hrs over a Saturday or Sunday.
Poi with belly dance combinations.
Burlesque- Awaken the art of the tease with sensual music to strut.
Rocking Rhythms to drum beats -Get confident to dancing to live drumming and music.
Sword balance – Mystify and thrill with balancing and moving to present warrior dancer within.
Fan Veils- Flowy and swift, use fans with combination of veil tricks to entice the audience
Move with Drama & Emotion- Guest Instructor
Folk and Middle Eastern Rhythm (lty classes):  Exploring the folk heritage of the Middle Eastern dance, helping you improve your understanding of music and how to interpret it. This class is a fantastic opportunity to increase your knowledge on the culture richness of the Middle Eastern dance and its roots.
Indian Fusion (Workshop Class): This class will bring to your dance expression, passion and devotion. Indian Fusion will combine the energetic movements of Classical Indian dancing, gestures and poses, with the powerful mystique its culture. Perfect fit for all the belly dance lovers out there.
Belly Kids (Holiday workshop): For kids between 5 to 12 years. BellyKids is a wonderful dance program that will teach kids how to dance and follow the rhythm of fun, up beat Middle Eastern and world music. It will help kids improve body coordination and mind retention. Kids will learn about a different culture and they get to dress up! Lots of fun!
Disclaimer: Please bring water bottle to stay hydrated. If you feel unwell or tired during class, do take the perogative to relax, till you feel comfortable to continue.